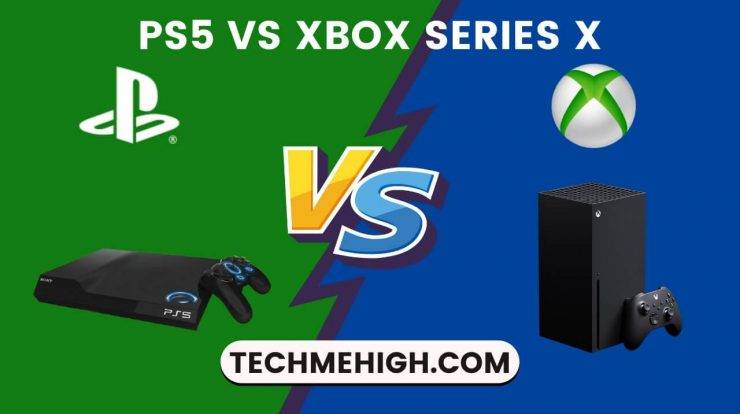 Although everything seemed confirmed for months, it was not until the beginning of this week when the PS5 logo was confirmed. The new Sony PlayStation 5 is on the way and follows the philosophy of the successful PS4. In fact, at the logo level, only the number changes, and everything will remain exactly the same. The opposite will be the new Microsoft console. In mid-December, it was confirmed that it will be called Xbox Series X, in addition to a series of technical characteristics. Although much remains to be revealed, especially at the component level, this is all we know so far about the new consoles: PS5 vs Xbox Series X.
Although, people have confirmed that PS5 Release Date Disappeared from the Official Website.
Sony decided not to show the new PS5 during CES 2020, but it has given us some clues about the new console. Among them, the confirmation that we will have 4K Blu-Ray discs, support for HDR, SSD to improve the load, support for 8K, graphics card and AMD processor, support for Ray-tracing based on hardware, surround 3D sound or triggers with vibration on the remote.
We know something else about the Microsoft machine. In fact, we've even seen the new Xbox Series X with a design that more closely resembles a tower PC. It supports 4K graphics at 60 fps and even talks about 8K. We have AMD custom processor, GDDR6 memory, hardware ray tracing, SSD for game loading, company-owned Microsoft Variable Rate Shading (VRS) technology, or others such as Auto Low Latency Mode (ALLM) and Dynamic Latency Input (DLI).
PS5 vs Xbox Series X comparison: Next-Gen Consoles
With what has been confirmed of the new consoles, these are the aspects that we can face at the moment:
The physical format is not going anywhere
There had been much speculation that the new consoles could bet on the cloud as the only alternative for games, but this is something that has been completely ruled out. Except for a specific version without a disk reader, as Microsoft has already tried, the two new consoles will keep the slot for reading optical discs.
In this case, both PlayStation 5 and Xbox Series X will have a 4K Blu-Ray reader, although nothing else has been revealed about it at the moment. In both cases, we can use it to read the games that we buy (or leave us someone), but also to play the movies that are sold in this format.
Ray tracing by hardware, the technology that could not be missing
Another feature that both consoles will share is the Ray tracing by hardware. This will be thanks to the GPUs that both machines will mount and which are a well-kept secret. From the graphics cards we know that, in the case of Xbox Series X, we will have 12 TFLOPS of power to move 4K games smoothly at 60 fps. This GPU, with the internal name "Arcturus 12", has GDDR6 memory.
In the case of PS5, we only know the issue of hardware Ray tracing support, but the issue of TFLOPS that will be able to offer AMD's GPU based on Radeon Navi is still a mystery. It will support 4K 60fps gameplay and 8K resolution. There are even those who have launched to confirm that it will be more powerful than Xbox Series X.
SSD for the fastest loading
In the absence of more details to know the differences, what we have are similarities. Both consoles, PS5 and Xbox Series X will mount solid-state drives (SSDs) for much faster game loading. At the capacity level, we can not expect less than 1TB in each of the models, since it is the base memory with which PS4 Pro and Xbox One X start, so a lower capacity SSD would be seen as a "backlog" despite to its advantages over traditional HDDs.
The same command, but different
The new Xbox Series X will have a controller almost identical to that of Xbox One, but with some change. In this case, we highlight the incorporation of a directional pad based on the Xbox One Elite 2 controller, as well as a new share button very similar to the one found on the current PlayStation 4.
In the case of Sony, the command should come under the name of DualShock 5. According to some interviews, the controller would leave the traditional vibration motors aside to bet on a new haptic vibration. According to other leaks, the remote would even have a touch screen, although it is a rumor classified as false by some sources. What would improve is the battery of the new remote.
Backward compatibility and cloud gaming
Backward compatibility has become, for a while now, a must for gamers who don't want to have to buy the same game they already have with a simple adaptation of content. Xbox Series X will be compatible with many of the games of previous generations, although not with all of them. In the case of PlayStation 5, it would come with backward compatibility with PS4.
As for cloud gaming, both consoles will focus on empowering it. Sony will do the same with PlayStation Now, although we have already confirmed that it will not serve to say goodbye to the physical format. As for Microsoft, everything will be trusted by Project xCloud which offers the possibility (currently) of playing more than 50 Xbox games on other devices such as phones or tablets.
Availability and price
Both consoles will arrive at the end of 2020, hoping that their launch date will be located before Christmas for more than obvious reasons. There is also no price confirmation beyond rumors. On Xbox Series X is aimed at 499 euros would be its launch price, always at the expense of packs with games that can be made. In relation to PS5, it is also expected that it could be in that price range, although at first, the information placed the price well above. What does not seem is that we will find many price differences between consoles.